Accommodation: M Apartments
Dobre Vode, Montenegro
category
category
category
category
Number of views: 135927
from
11€
per person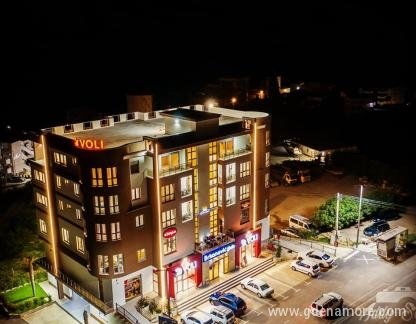 Apartment:
Room:
Studio:
Whole object
M Apartments is a brand new facility located on Veliki Pijesak on the very turn for Plazu Veliki Pijesak. M Apartments were newly furnished in June 2019.
The building has accommodation units of apartment type. Apartments with a living room plus a bedroom kitchenette and a terrace provided for 2-4 people. It also has apartments that have two bedrooms with a living room, a kitchenette and a terrace - provided for 4-6 people. Within the terrace
There are tables and chairs. The kitchen and bathrooms are fully equipped. Wi-fi, air conditioning, garage within the facility, lift and staff who are ready to help and that any information that a guest needs.
The facility is 400m away from the beach ...
Within the building is the super market Voli, located on the ground floor of this building.
We look forward to your arrival ...
Legend:
All rooms, apparments
Some rooms, apartments
No
Capacity:

56

Seaview:
Water 24h:
Bathroom:
Kitchen:
Room service:
Safe box:
Large terrace:
Balcony:
Air conditioning:
TV:
Cable TV:
Internet:
Telephone in the room:
Parking:
Garage:
Pool:
Suitable for children:
Pets allowed
Suitable for disabled people:
Characteristics of accommodation
Legend:
All rooms, apparments
Some rooms, apartments
No
Capacity:

56

Seaview:
Water 24h:
Bathroom:
Kitchen:
Room service:
Safe box:
Large terrace:
Balcony:
Air conditioning:
TV:
Cable TV:
Internet:
Telephone in the room:
Parking:
Garage:
Pool:
Suitable for children:
Pets allowed
From the center:

400 meters

From the beach:

400 meters

From bus station:

1000 meters

From airport:

55000 meters
From ambulance:

1000 meters

From restaurant:

400 meters

From sports fields:

550 meters
Prices and payment options
Payment options:
Cache:
By bank transfer:
Credit cards:
In Pre-season

10

In high-season

15

In post-season:

11.5

Out of season:

10
Updated: 08/21/2020
Powered by GdeNaMore.com